Many customers approached us in the last year inquiring about I3C, its benefits and market adoption. The I3C benefits compared to other Sensor interfaces used today, such as I2C and SPI are clear. There are many sensor interfaces which cause unnecessary fragmentation, and are not optimized for system power efficiently for communication with sensors. These drawbacks limit applications and scalability for usage of sensors in mobile, IoT, embedded, automotive environments.
Here's a comparison of Energy consumption and Raw bitrate between I3C and I2C (source MIPI Alliance):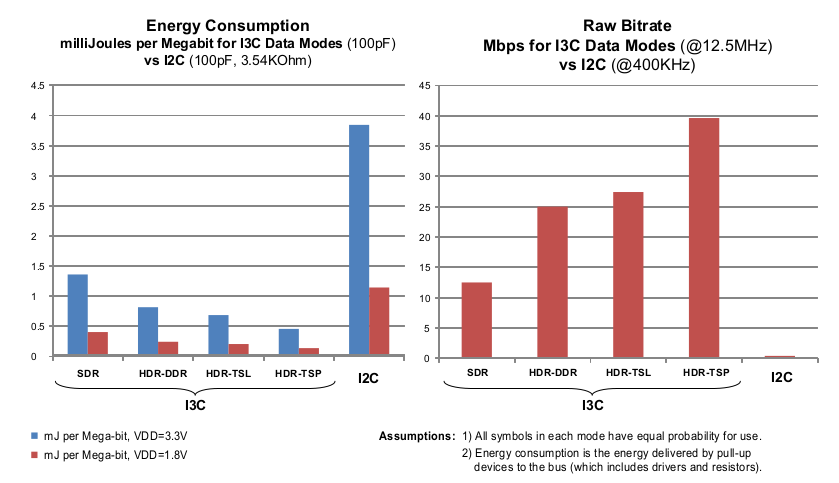 As devices become 'smarter', trying to understand our intentions without actually typing data into a keyboard, more sensors are being added to numerous devices, starting in mobile phones as indicated by the Linley Group.
This week's release of MIPI Alliance I3C Sensor interface adds more fuel to the industry desire to standardize sensor interface.
SoC vendors were the first semiconductor vendors to realize the power, scalability, pin cost benefits and move to adopt the standard even before v1.0 was ratified and published. I would tend to agree that sensor vendors are more cautious with adoption however once I3C specification v1.0 is published I do expect the second wave of sensor designs to ramp up and utilize I3C.
We now see sensors adopted in consumer, home applications, robotics, industrial and medical electronics which aim to simplify our lives.
The standardization aspects of I3C will benefit the eco-system tremendously, allowing SoC's to utilize same interface to connect to multiple I3C and I2C sensors on the same bus. It'll also enable host software standardization and make connectivity much simpler for system integrators.
A quick fact sheet about I3C, its features, typical devices that could be connected on the I3C bus (source MIPI Alliance):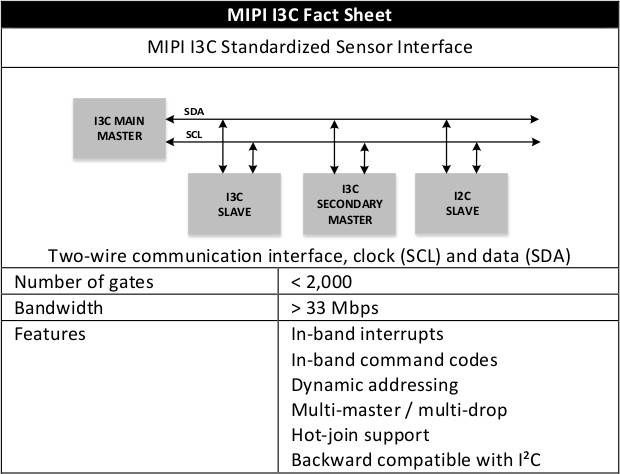 For those customers that approach us today and ask when to adopt the I3C specification we say Now. With many vendors moving towards adoption we expect the eco-system will rapidly grow to support a new class of I3C bus. As with all new standards, things take time to build but with a simple two-wire interface that has many advantages, wide industry support and availability of the specification via the MIPI Alliance we believe I3C adoption will ramp up quickly.
To learn more access the following whitepapers:
MIPI Alliance whitepaper http://bit.ly/2gId6BL
Synopsys whitepaper (English) https://www.synopsys.com/dw/doc.php/wp/mipi_i3c_wp.pdf
Synopsys whitepaper (Chinese) https://www.synopsys.com/cgi-bin/cnpdfdla/reg1.cgi?file=mipi_i3c_wp_chinese.pdf
Synopsys whitepaper (Japanese) https://www.synopsys.com/cgi-bin/jpdfdla/reg1.cgi?file=mipi_i3c_wp_jp.pdf
After you read and if you want to join MIPI Alliance as a member, you are welcome to join the MIPI Alliance and access the I3C specification to start your design. MIPI Alliance is a community of many vendors who compete on a regular basis but come together to define specifications that are useful in many applications, starting in mobile and beyond.
If you need help with I3C Verification IP and I3C Design IP, Prototyping systems, Synopsys is here to help. Synopsys is a very active contributor in the MIPI Alliance and in the MIPI Sensor Work group, making contributions to the specifications such as I3C, MIPI PHYs, CSI, DSI, UniPro and more. You can visit these pages for some information and contact me for more details if needed:
Synopsys I3C IP page: https://www.synopsys.com/dw/ipdir.php?ds=mipi_i3c
Synopsys I3C IP Datasheet: https://www.synopsys.com/dw/doc.php/ds/c/dwc_mipi_i3c_ds.pdf
Synopsys I3C Verification IP page: https://www.synopsys.com/verification/verification-ip/mipi/mipi-13c.html

If you like to read this or other previous posts, send this URL to your friends and tell them to Subscribe to this Blog.
To SUBSCRIBE
One option to subscribe is as follows:
• Go into Outlook
• Right click on "RSS Feeds"
• Click on "Add a new RSS Feed"
• Paste in the following "http://feeds.feedburner.com/synopsysoc/sqLy?format=xml"
• Click on "Accept" or "Yes" or whatever the dialogue box says.